Create Users
Create a new user
The "Administrate" permission is required to create and administrate users in the system.
To create a new user:
From the System perspective below "Users and Permissions", click Add User on the toolbar. A dialog box will appear.
Fill out the fields and click OK. The new user has been created.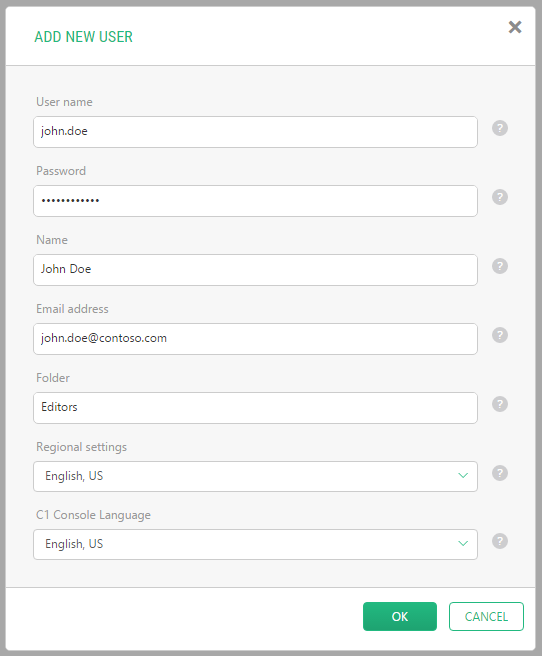 Field description
User name

Enter the name to log in to the CMS Console. The user name cannot be changed later.

Password

Enter the desired password. (The password must be at least 6 characters long.)

Name

Enter the name of the person to use this account.

Email address

Enter the email address of this user.

Folder

Enter the name of the folder you wish the user should belong to. If you type in a folder name that does not exist, a new folder will be created

Regional settings

Choose a regional setting. The user will be shown numbers, times and dates in the format commonly used in the selected country.

CMS Console Language

Choose the language of the CMS Console. The user will be shown the CMS Console in this language.

Help us help you

C1 CMS is all about giving you the best CMS experience. If you are missing a tutorial or would like to request a new feature, please don't hesitate to contact us.