Edit Page Content
How to Edit Content on a Page
Content on pages is inserted on the Content tab. The Content tab contains an HMTL editor, we call it the Visual Editor, which offers you many editorial possibilities and can be viewed upon as a small text processing tool. There are a number of opportunities for text editing, insertion of images, links, tables and so on. To edit content on a page, follow these steps:
Select a page in the page structure.
Click Edit Page on the toolbar.
Select the Content tab. Now you can use the HTML editor to insert or edit your content.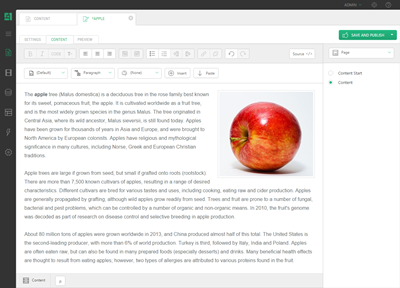 Help us help you
C1 CMS is all about giving you the best CMS experience. If you are missing a tutorial or would like to request a new feature, please don't hesitate to contact us.