Publish a Page
How to Publish a Page
When you have created a page and feel satisfied with its content, you can publish the page to the website.
On the Content tab in the page tree, select the page you want to publish.

Alternatively, you can right-click the page and click "Publish" in the context menu.
If you click "Send For Publication", the page will be published after it is approved by the user with this permission.
Unpublishing the page
To unpublish the page:
Select the page you want to unpublish in the page tree. The toolbar will now display a new menu command called Unpublish.
You can also unpublish the page from its context menu.
Publishing while editing
When you are editing a page, you can also publish it.
Rather than saving the page by clicking the Save button, you can switch the mode of the button and click Save and Publish instead.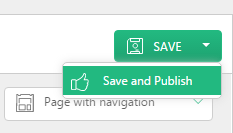 This will:
save the changes as a new draft
and then publish the page with these changes.
Help us help you
C1 CMS is all about giving you the best CMS experience. If you are missing a tutorial or would like to request a new feature, please don't hesitate to contact us.