Console Overview
The CMS Console consists of the perspectives each featuring the tree view the browser view.
The tree view (on the left) and the browser view (on the right) are located on the navigation tab always first in the tab row. This tab cannot be closed.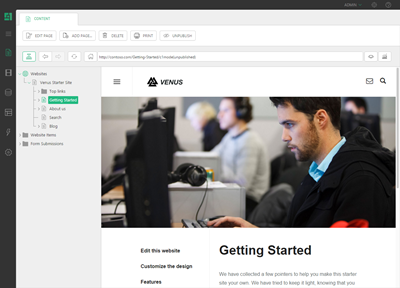 Perspectives
On the left vertical panel, different perspectives are presented by their corresponding icons.
A website is both built and maintained through the same administrative console - the CMS Console, but the various tasks are organized within separate perspectives. For example, all pages are placed in the Content perspective and all tasks concerning user administration and permissions are placed in the Users perspective.
It is possible to select which perspectives users should have access to.
You can also expand the perspective pane by clicking the "sandwich" button in the top left corner. This will give you a better overview of the perspectives.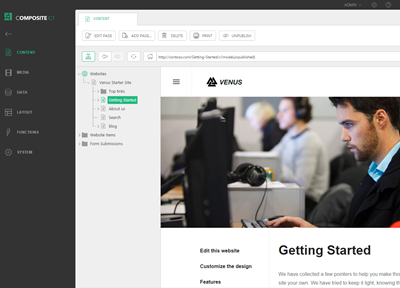 The tree view
On the left pane of the navigation tab, there is the tree view that allows you to navigate, and work with, the elements of the current perspectives. For example, on the Content perspective, you can navigate and manage websites, web pages and website-related items.
The browser view
The browser view on the right pane allows you to preview the content of the element currently selected in the tree.
For example, if you select a page in the tree, its content will appear in the browser view.
The tabs
When you edit an element in the tree, it opens in its editor on a separate tab, which takes up almost the entire area of the CMS Console.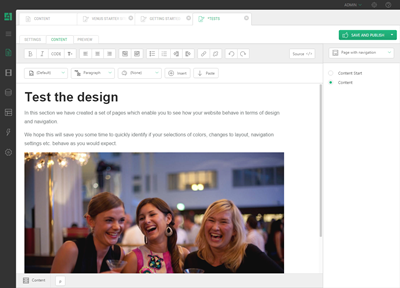 You can click the navigation tab to switch back to the tree / browser view, or click any other tab of the currently opened element.
The toolbar buttons are always relevant to the current element selected in the tree or opened in the editor on its own tab.
Help us help you
C1 CMS is all about giving you the best CMS experience. If you are missing a tutorial or would like to request a new feature, please don't hesitate to contact us.