SEO Assistant
Optimize your search ranking.
When you insert content on your website, it is important to make sure that the pages are optimized for search engines. This is to ensure that your visitors and customers will be able to easily find your website using a search engine, for example, Google. C1 CMS has the SEO Assistant tool that can give you some guidelines about how well the individual pages are optimized for search engines.
The SEO Assistant includes:
A field to add keywords
And a view to display the list of added keywords and SEO results
The keyword list is global. The words that you add to it should be those you would like to enhance on your website.
How to add words to the keyword list:
Click the SEO Assistant button ("Search engine optimization") to the right of the address bar.  
The SEO Assistant pane will open at the bottom of the CMS Console.
Add a keyword in the field and click the "+" button.  
Repeat Step 2 for as many keywords as you like.
The keyword will appear in the results view showing how well the page is optimized for these keywords.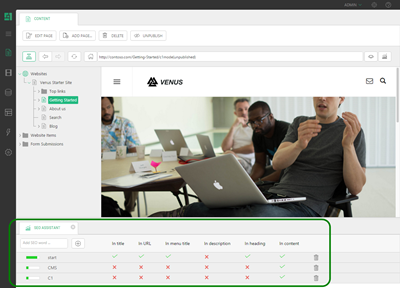 The best way to optimize your website is to make sure that there is a single page fully optimized for each of the words in the keyword list.
The SEO Assistant tests if keywords are present in 6 different areas:
Title
URL
Menu title
Description
Heading
Content
With SEO Assistant you can test one page at a time.
Help us help you
C1 CMS is all about giving you the best CMS experience. If you are missing a tutorial or would like to request a new feature, please don't hesitate to contact us.